Advanced Dental Services & Technology – Thornville, OH
Modern Dentistry Delivered to You
Decades ago, the idea of being a dental patient and seeing what your dentist sees in real time was unfathomable. The same can be said for dental impressions that don't require goopy dental putty. But the reality is that advancements in dentistry have come a long way, and we are now able to incorporate more modern technologies into our dental office. Below, you will find the various types of equipment and software we use in-house to create a more forward-thinking approach to dentistry. If you have any questions, please don't hesitate to contact our dental office.
Committed to State-of-the-Art & Comfortable Dental Experiences
No-Mess Digital Impressions
Improved Patient Education with Intraoral Cameras
Less Radiation from Digital X-Rays
Intraoral Cameras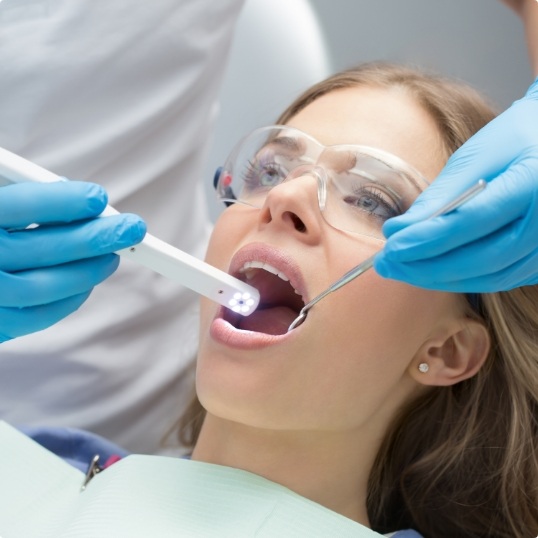 If you want to see exactly what your dentist sees when looking in your mouth, you'll be pleased to learn that we can accomplish this thanks to intraoral cameras. By using this camera-tipped device, we can easily scan your mouth and capture images that are projected onto a chairside monitor. Here, we can pinpoint any problem areas and provide a thorough explanation as to the importance of treatment as well as offer valuable patient education about oral health.
All-Digital X-Rays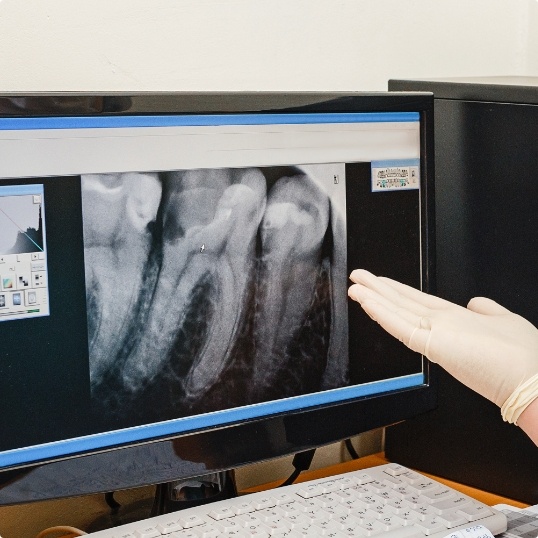 X-rays are an essential component of dentistry. Dentists need them to see a more well-rounded view of a patient's mouth. Because only a small portion of the tooth structure exists above the gumline, these scans make it easier to identify problems that develop within the root system. Fortunately, the radiographs of today are safer and quicker to produce. Traditional ones emitted higher levels of radiation, and they often took up a lot of a patient's appointment time because of the slow development process. Now, however, digital X-rays emit up to 80% less radiation and take only seconds to process.
3D Cone Beam Imaging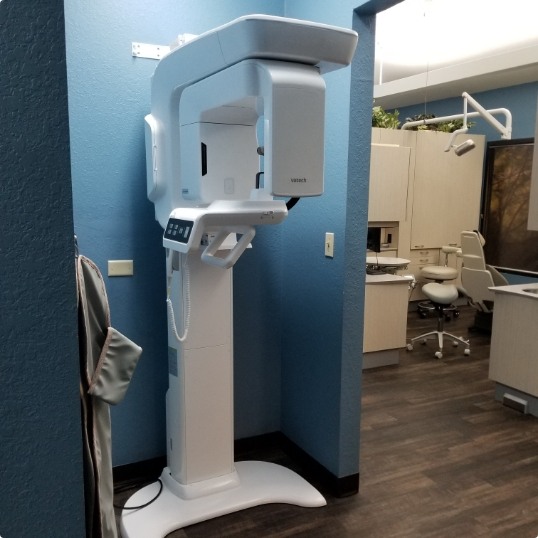 Digital X-rays are important, but they are only two-dimensional. As a result, this limits the in-depth viewpoint that is often needed when planning more extensive dental procedures such as dental implant placement or root canal therapy. With our 3D Cone Beam Imaging system, the 360-degree arm rotates around your head to capture hundreds of images that combine into one 3D model. This allows Dr. Chase to look more closely at your teeth, gums, bones, tissues, nerves, and other nearby oral and facial structures.
Digital Impression System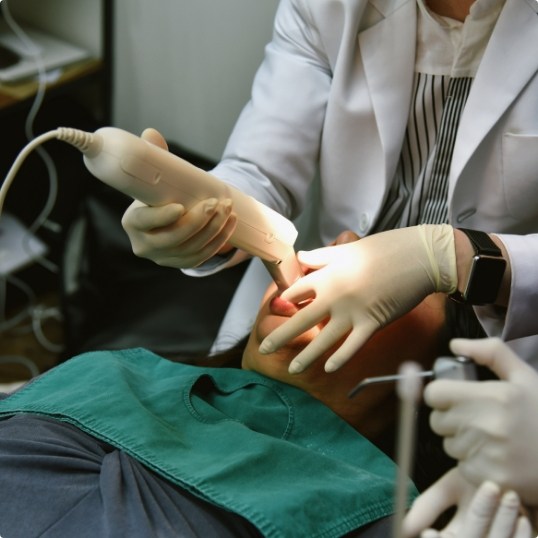 No two restorations are alike, which is why dental impressions must be as accurate as possible. Once using traditional putty that was cold and messy, we now have a digital impression system that makes the process easier and more comfortable for patients. Our team will scan your mouth to create a 3D model of your smile before it is sent to local lab technicians who will fabricate your customized restoration for an accurate and secure fit.