Emergency Dentist – Thornville, OH
Same-Day, Pain-Relieving Emergency Dental Care
A great way to address an urgent situation and quickly get the pain-relieving care you need is to have our phone number on hand in case an emergency occurs. Call us right away, and our trusted emergency dentist in Thornville, OH will work to get you in the same day and help to restore your smile.
Why Choose Thornville Dental for Emergency Dentistry?
Dental Sedation Available
Same-Day Emergency Appointments
Dental Insurance Welcome
How We Treat Dental Emergencies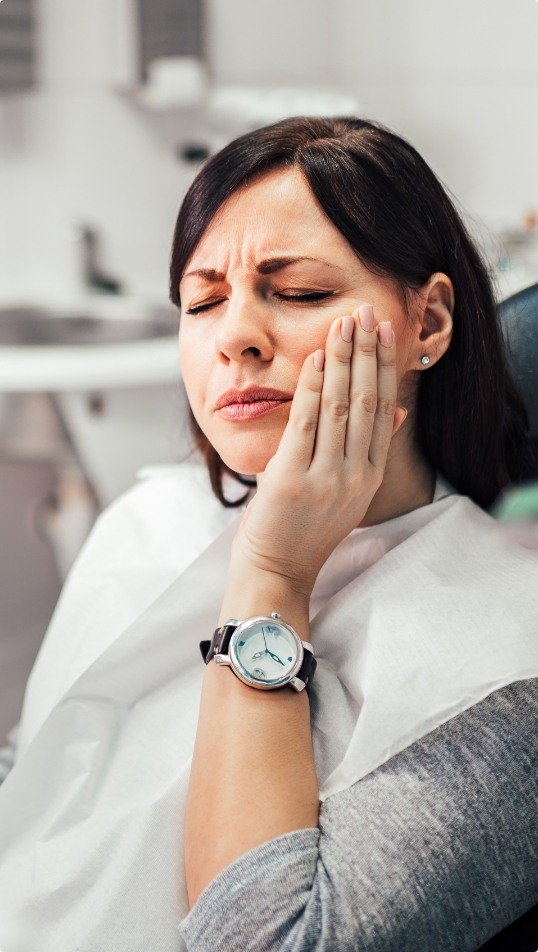 Examination
The first step you should always take if you experience any out-of-the-ordinary oral pain or discomfort is to call us immediately. We'll provide you with over-the-phone first aid guidance to minimize any additional harm to your mouth and schedule a same-day visit to address the issue.
Treatment Plan
As soon as you arrive at our dental office for your same-day appointment, we'll capture X-rays and conduct a thorough examination of your mouth in search of any abnormalities or signs of oral health problems, like tooth infections or gum disease.
Treatment Plan.
Based on our findings during your examination, we'll diagnose the problem and create a treatment plan to ease your discomfort and restore your smile to its original shape. We'll also walk you through a detailed cost estimate and your payment options, so you know what to expect before committing to treatment.
Restore Smile & Relieve Pain.
Finally, we'll treat the problem at hand! If necessary, we can administer dental sedation during your procedure to help make you more comfortable.
The Most Common Dental Emergencies
If you're concerned about whether your situation can be considered a dental emergency or not, take a look at the list that we've included below. These are all common problems that we address for patients. Some of them require more urgent attention than others.

Toothaches

Chipped Tooth

Cracked Tooth

Sensitivity to
Hot & Cold

Knocked-Out
Tooth

Broken Denture

Loose Tooth

Lost Filling or Crown

Jaw Pain or Clenching

Something Stuck
Between Teeth
Understanding the Cost of Dental Emergencies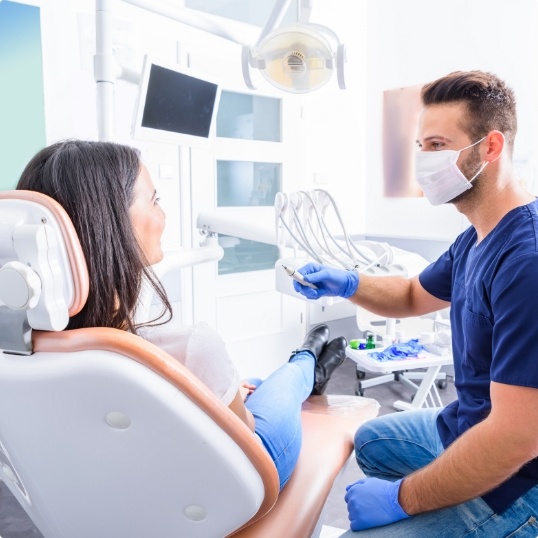 The cost of dental emergencies in Thornville depends on what type of treatment you require. For example, if you experience dental sensitivity as a result of a cavity, you may only need a tooth-colored filling. However, if you have a severe toothache due to an infection, you could require a root canal and dental crown placement, which would be more costly. In any case, our team will walk you through your treatment plan and discuss pricing and payment options with you beforehand, so you know what to expect cost-wise.
Keys to Preventing Dental Emergencies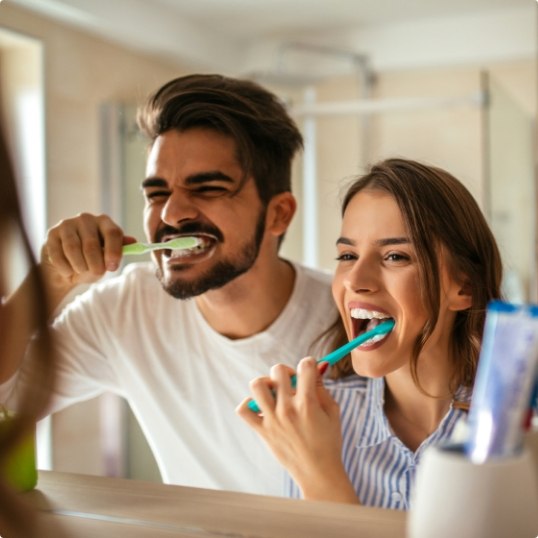 While it's impossible to completely avoid dental emergencies, there are several preventive measures you can take to reduce your risk of needing to see the emergency dentist. Some of these include:
Maintaining a balanced diet
Protecting your teeth from grinding and clenching
Visiting the emergency dentist as soon as you experience oral pain
Maintaining a good at-home oral hygiene routine
Visiting the dentist once every six months for a checkup and cleaning
Protecting your mouth if you play sports
Dental Emergency FAQs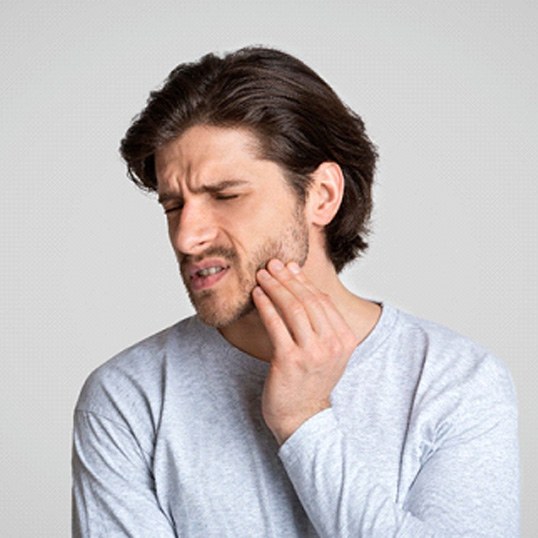 By now, you may be giving thought to emergency dentistry. It's great if you are – the field's services could save your teeth and prevent hassles! That said, you should learn a bit more before committing. You want to feel confident in your treatment, after all. Thankfully, Thornville Dental has you covered: we've listed answers to some oft-asked dental emergency questions below. Please give them a read to understand how our emergency dentist in Thornville can help. Otherwise, call our office for any needed details.
Will my toothache go away on its own?
With little exception, toothaches generally don't fade away on their own. Instead, they usually persist until the underlying cause is treated. It's thus crucial to book a dental visit to ensure nothing is wrong.
You see, a toothache can often point to serious oral health issues. For that reason, you'll want to rule out such problems with a dental professional at once. Doing so can help you catch minor irritants before they become major challenges.
Granted, it's possible for pain around a tooth to go away over time. Even so, however, such discomfort is usually gum irritation rather than an actual toothache.
Do I need to visit for minor chips to teeth?
A minor tooth chip usually isn't an urgent dilemma. That said, you should still get professional treatment for it. Lost enamel won't grow back, so the affected tooth will erode further without care. It may even turn sharp or jagged, accidentally cutting your gums or mouth tissue.
Depending on a chip's severity, a local dentist has various ways to fix it. One is to repair the damage with filling material, which will prevent further harm and help the chomper look better. Another idea is to polish and smooth out the chipped area.
Should knocked-out teeth be placed in water?
True enough, you can use water to rinse a knocked-out tooth. Still, don't place your pearly white in a container of this liquid.
The problem is that water can damage a tooth's root cells. As such, prolonged exposure could reduce the affected chomper's odds of being saved. You're better off placing the tooth back into your open socket to prevent that outcome. Alternatively, you can put it in milk or saline solution for up to one hour.
What should I keep in my emergency dentistry kit?
Technically, you should see a dentist soon after your urgent situation starts. If that's not possible, though, you'll want to manage your problem with an emergency dentistry kit. That way, you'll have some of your issues under control by the time of your dental visit.
For your emergency kit, remember to include:
Gauze & Cotton Balls – These items can reduce any potential bleeding. Small storage container for teeth or restorations
Pain-Relieving Items – Ensure your kit has over-the-counter pain relievers, an ice pack, and topical anesthetics like Orajel. These items will help you manage your discomfort.
Temporary Filling Material – You can patch up a damaged tooth with a temporary filling until you see a dentist.
A Local Dentist's Contact Information – By keeping a card with your dentist's phone number and address handy, you can book an emergency visit quickly.